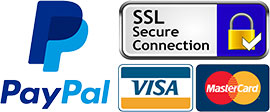 Shipping Info
1.Shipment Methods
2.Shipping & Handling
3.International Shipping
4.Back Orders
1.Shipment Methods
Currently, all of our shipments are through Priority Mail (USPS),if you are dealer,you can selected others .We can not offer Overnight (UPS Red) and 2nd Day Delivery (UPS Blue) .
Estimated Delivery Time:7 - 15 Business Days
Order tracking: We allow you to track your order at the click of a mouse. When your shipment is confirmed, you'll receive a tracking number in your confirmation e-mail within 24 hours. You can track your order from http://track.royalmail.com/
Shipping rates: Our rates include the expenses of shipping, handling and the high quality packaging.
Attention: Priority mail will be used for all PO Box shipping addresses ,But All APO's and military addresses do not apply here. Please use standard shipping for these. Thank you.
3. International Shipping
We ship worldwide .
4. Back Orders
Most of our products are in stock. In the case where an item is back ordered, We will notify you as soon as possible with an expected ship date. In the event that multiple items are ordered and one is back ordered. We will only charge for the item that is shipped. And not until we ship the back ordered item will we charge you for that. For all orders We will not charge the credit card until the order is ready to ship.Customers are responsible for the VAT ,if customer doesn't pay the VAT and lead to the item has be returned by customs ,we will refund your payments but without the shipping costs.

5. Question and Answers for Shipping
I just completed an order and my payment is cleared. When will it ship?
Orders generally ship within 1 - 2 business days of when the order is placed (see processing steps chart above).
What are the shipping charges?
All shipping charges are indicated on the items specifications page. All shipping prices are displayed on the website including GST