XPG FSP230-AJAN3 replacement adapters


Note:Please confirm your Laptop Chargers and Laptop model and check the appearance of the battery before placing an order.
XPG FSP230-AJAN3 Replacement Adapter for XPG Xenia 15 XPG Adata Xenia1660 Xenia 2070
XPG FSP230-AJAN3 Adapter Shipping To Worldwide
SKU: FSP17470
AC Input:

100V-240V 3A 50-60Hz

DC Output:

19.5V 11.79A 230W

Availability:

In stock , ETA: 7-15 business days!
* Modern technology with a fast charging speed
* High-quality workmanship: A flexible and durable cable
* Guaranteed safety: Protection against short-circuits, overheating and excess voltage
* Compact, ergonomic design - ideal for travelling
* Each cell is separately tested in order to ensure professional standards are met
* 100% compatible in replacing your original adapter


Product Details
Shipping Info
Payment Method
How to buy
Why select us?
1. 30 days money back, one year warranty, efficient and fast after sales service
2. Specialize in batteries & chargers, professional batteries & chargers manufacturer.
3. Over 10 years of experience sale online
4. Most of the hot products are stored in the United States, United Kingdom, Australia, Europe Warehouses to make sure orders reach you at highest speed
5. In addition to the inbound inspection, the battery will be rigorously tested by our professional engineers again to ensure safety and fullness before shipment
* XPG FSP230-AJAN3 Laptop Chargers is replacement for XPG FSP230-AJAN3. The XPG FSP230-AJAN3 adapters equivalent is guaranteed to meet or exceed XPG original specifications. All XPG FSP230-AJAN3 adapter are brand new, 1 year Warranty, 100% Guarantee Quality and Fully Test!
Note :10.8V and 11.1V are compatible, they are in common use. 14.4V and 14.8V are compatible, they are in common use.
XPG FSP230-AJAN3 Laptop Chargers can replace the following part number:
XPG FSP230-AJAN3 Laptop Chargers is compatible with the following models:
G-Style MSI Hasee
XPG Xenia 15
XPG Adata Xenia1660 Xenia 2070
How to choose a XPG FSP230-AJAN3 adapter?
+ Make sure that the voltage and current of the adapter are the same as the original voltage.
+ Check carefully if the tip of the adapter is the correct size.
+ Check if the photo of the power adapter matches your needs.
Description of XPG FSP230-AJAN3 Laptop Chargers :
Factory direct price, 100% compatible, No memory effect. Hi-Capacity, Quality garantee, certification Fast shipping. We stand behind our Replace for XPG Cord/Charger XPG FSP230-AJAN3 100%.
Our goal is to make sure you receive the best value of every purchase you make at our site. We want to be your number one choice Replace for XPG FSP230-AJAN3. If you have any question or suggestion about this laptop ac adapter, please contact us so we can offer you the most convenient service.
We accept credit card , PayPal payment
If you pay by credit card,currently we accept mastercard and visa
Also you can pay with your mainly credit card by paypal

How to buy a laptop ac adapters, choose laptop ac adapter tips
There are some steps show you how to buy a correct laptop ac adapters, power supply for laptop computer
If you have original ac adapter in hand: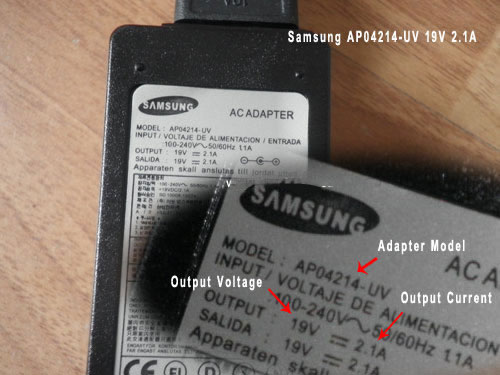 1. Take your original laptop ac adapter in the hand, search or choose "adapter model " on our site.

2. Choose the same output Voltage, output Current item in our site, click in and see detail.

3. Check its output tip, make sure it is the same as your original one.( Very important! )

4. Please select the number of products you need to purchase before clicking the "Add to cart" button.

*If you find that your select the number of products is wrong, you can make a quantity change directly in the shopping cart.

5.Click the "Add to cart " or "pay with Paypal " button, fill information, pay for it and you will receive it soon.

If you do not have original ac adapter:

Way 1: Seach the machine model on our site, eg: Need an ac adapter for 'SAMSUNG AP04214-UV' Laptop, just seach 'AP04214-UV" on our site.( Brand is not needed when you seach it.)

Way2: Find the input information on the machine first,

On the back of machine
On it's 

Product Manual

.
Near the input DC hole
Under its battery
Elsewhere you can find it

Eg: On samsung AP04214-UV laptop, we can find text like ' input 19V 3.15A/3.16A, 60W " on its back.

Second: Choose the ac adapter with correct DC Tip.

Eg: SAMSUNG AP04214-UV laptop, need an 19V 3.15A/3.16A adapter with 5.5mm×3.0 mm DC Tip , so, choose SAMSUNG AP04214-UV 60W REPLACEMENT ADAPTER is correct!

If the adapter interface size is not indicated on our product page. You are not sure if the product matches your computer. Please contact us.

Way3: Just contact us with email or online chat. We can help you find the correct ac adapter even we do not list its model on our site. Our company have more than 40 ac adapter factories or suppliers , We can give you a good suggestion if you talk with us.

Our Contact Information

If you have any other question from our website, please do not hesitate to contact us, we will reply you in 24 hours., 
Email: info@Tech-battery.com